It's more important than ever to be aware of what consumers are saying about your auto dealership. Negative online reviews can cause tremendous damage to your dealership's reputation and sales.
Consumer reviews may include both positive and negative commentary regarding price, customer service, as well as overall quality of their vehicle and their experience with your dealership or service department. Positive reviews are fantastic and we'll write a blog post in the near future about how to acquire more written positive reviews online. It's the negative reviews that you need to know about quickly, however, so you can properly address them before they do harm to your dealership's reputation.
Fortunately, there are some great free software tools available online to help you monitor your auto dealership's reputation. Here, we highlight four of our favorites.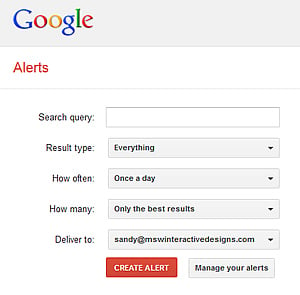 Google Alerts are free email updates of the latest relevant Google results (web, news, etc.) based on your queries. You consider setting up Google alerts for your business name, the names of key team members, and your website address, at a minimum. Simply enter your query string, then select the result type(s) that you would like to receive, how often you would like to receive alerts, and how many alerts you'd like to receive. Google will then send you emails alerting you to any mentions concerning your business, as well as any other alerts you setup.
Social Mention

Social Mention allows you to easily track and measure what people are saying about you, your company, a new product, or any topic across the web's social media landscape in real-time. Social Mention monitors 100+ social media properties directly including: Twitter, Facebook, FriendFeed, YouTube, Digg, Google etc.
STRENGTH is the liklihood that your brand is being discussed in social media. A simple calculation is used for this: phrase mentions within the last 24 hours divided total possible mentions.
SENTIMENT is the ration of generally positive commentary to generally negative commentary.
PASSION is the measure of likelihood that people who are talking about your brand will do so repeatedly.
REACH is a measure of your range of influence. It is the number of unique authors referencing your brand divided by the total number of mentions.
You simply go to the website, enter your business name (or other query) and Social Mention will return the results (with links) to all the mentions across the social platforms. It also returns (with greater detail) the data outlined above.
Mention is similar to SocialMention.com in that it queries the social media channels for your brand mentions. Create alerts on your name, your brand, your industry and your competitors and be informed of any mention on the web and social networks. The nicest feature of Mention is that it is accessible across all devices (desktop, laptop, tablet, and smart phone). It also provides real time alerts. This can be invaluable when it comes to negative mentions of your brand, because you are alerted immediately.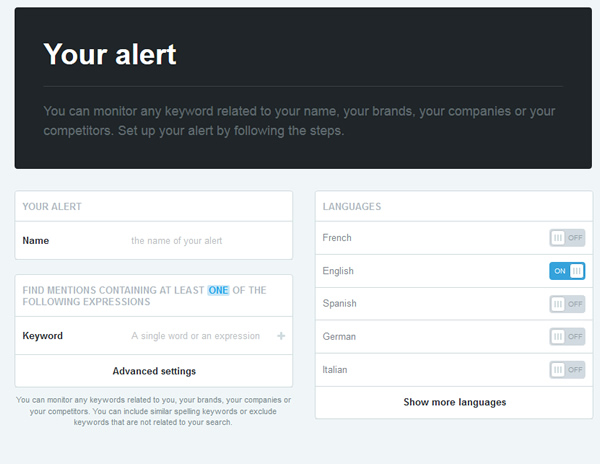 NetVibes is a pretty powerful dashboard, allowing you to monitor your brand across Google, the blogosphere, and the social platforms. The free version (somewhat limited) allows you to enter your business name and view real time results. NetVibes does have an option to upgrade which includes some pretty powerful analytics.
Consider This
A Consumer Survey (2012) indicated a positive shift in consumer trust of online reviews. 72% of consumers surveyed reported they trust online reviews as much as personal recommendations. 52% indicated positive online reviews make them more likely to use a local business. Additionally, the survey revealed 65% of consumers read between 2-10 reviews before they felt they could trust a local business.
Clearly, regardless of the tool that you select, it's critically important to be proactive and monitor your auto dealership's reputation online. In upcoming posts, we'll share ideas for soliciting positive reviews online, as well as how to proactively and effectively deal with negative reviews.
About Novera Payment Solutions
Novera Payment Solutions is a leader in the credit card payments industry and is committed to helping auto dealerships and other businesses improve the bottom line by providing significant savings on credit card processing fees through our innovative flat fee pricing model.
The Novera Advantange
Novera's consultative approach allows us to thoroughly educate our clients, equipping them to better understand this complicated industry.

We take the mystery out of the credit card processing business.

We work with all types of businesses across the country, and one our specialties is auto dealership credit card processing.
Contact Novera to learn more about how we work with small businesses, auto dealers and auto dealer associations to provide the most fair and transparent pricing structure available on the market today for credit card processing.