In 2014 there were many changes in social media, and we expect that trend to continue in 2015. Companies will continue to build their internet marketing strategies and continue to rely on social media platforms such as Facebook, LinkedIn, Twitter and Google+. For 2015, however, video and video sharing will be the growing content of choice. Who would have though that video sharing on Facebook would overcome Youtube as the most common sharing platform? But it has!
Consider these video marketing statistics from BrainShark:
74% of all internet traffic in 2017 will be video

- See more at: http://www.brainshark.com/Ideas-Blog/2014/March/ten-video-marketing-statistics-and-what-they-mean-to-you.aspx#sthash.MDXVpPxn.dpuf

74% of all internet traffic in 2017 will be video

- See more at: http://www.brainshark.com/Ideas-Blog/2014/March/ten-video-marketing-statistics-and-what-they-mean-to-you.aspx#sthash.MDXVpPxn.dpuf

74% of all internet traffic in 2017 will be video


74% of all internet traffic will be video by 2017

52% of marketers report that video content produces the best return on investment

Video in email can boost open rates 20%

65% of video viewers watch over 2/3 of a video

33% of tablet owners watch more than one hour of video on their tablets each day
Pretty powerful stuff when considering how to best market your company!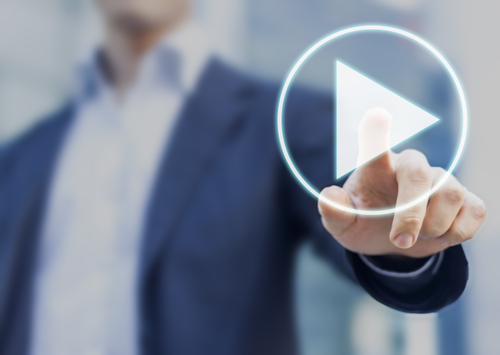 What does this mean for your business?
You should develop a plan for video ... create great, targeted, high-definition video content that can be shared across your entire range of social media channels. Videos should include targeted calls to action to drive viewers back to your website and social channels.
Creating video for your business is easier than you think!
People get stifled by the misconception that business videos must be professionally produced. Nothing could be further from the truth. It's called social media because consumers want you to be SOCIAL ... when it comes to small business, people buy from people, not from companies.
The businesses that have the most success with social media and video are those that keep it real and build social relationships with their fans and followers. That means if you have a smart phone, there's no excuse not to have video on your social channels. You can record your best customers giving you a testimonial (social proof), build a video FAQ library where you answer common questions from prospective customers, take video of your team and let your customers get to know them ... the possiblities are endless.
Free basic tools link Animoto.com allow you to use royalty free music tracks, import your photos and video clips, and click a button to produce a beautiful business marketing piece. Add video to your business marketing plan for 2015. You won't regret it!
Some additional trends that we see in 2015:
Mobile Marketing will be a crucial element of your marketing strategy. The major social networks now have a worldwide mobile penetration of 93%

Paid Ads on social websites will become increasingly unavoidable, requiring fees to market your business.

When searching locally, Google searches will expand over to Google+ profiles and pages to include these results. Something to think about if you do not have a Google+ profile.

Paid media will be necessary to distribute your content at the right time and to the right audience. Paid media will allow for more conversions to your website than will organic outreach such as "Likes."

Republishing your top posts will allow you to capitalize on your most engaging content. You will reach additional audiences that you did not reach with the first post.

Personal interaction with your followers will continue to be very important. Building trust with your potential clients in responding to their feedback and comments will continue to be critical.

Facebook is still king, but a combination of Facebook, Twitter, LinkedIn, Google+, Blog, and other social media will allow you to reach the largest audience while positively affecting your search engine ranking!
About Novera Payment Solutions
Novera Payment Solutions is a leader in the credit card payments industry. We are committed to helping businesses improve their bottom line by providing significant savings on credit card processing fees through our innovative flat fee merchant account pricing model.
Contact Novera to learn how you can accept credit cards for your business!