According to a study by Cone Communications, 80% of consumers say they have changed their mind about a purchase based solely on negative information they found online. It's no surprise that having negative reviews about your business online can significantly impact your bottom line.
So, what should you do if you find a negative online review about your auto dealership?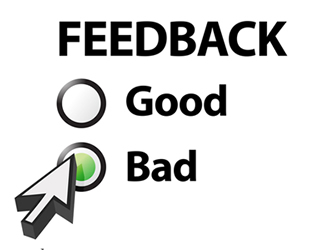 There 6 key steps you should considering taking when responsing, but before you attempt to respond be sure you've claimed your social media profiles. This enables you to respond to reviews directly as the owner of the business. "Claiming" your profiles varies by service, but generally it involves creating the account and verifying your ownership. Start with Google+, but also include Facebook, Twitter, LinkedIn, Yelp, and FourSquare, at a minimum. Be sure to check out our recent blog post featuring "7 Sites to Monitor to Protect Your Auto Dealership Online Reputation" for others.
Once you have an account that allows you to respond as the owner of the business, considering taking these 6 steps when responding to a negative review.
Thank them for taking the time to provide feedback.

The person writing the review has done business with you and presumably has spent some money. You should also understand your reviewer is likely vocal and opinionated (otherwise they would not be writing the review). They are taking their time to let you (and their friends) know about the experience. Right or wrong on their end, it's important to acknowledge and thank them. Remember, this doesn't mean you necessarily agree with the feedback ... you are simply thanking them taking the time to provide it.

Acknowledge their frustration. We've all been there as a consumer. Acknowledging the customer's feelings (again, right or wrong) shows empathy and can help diffuse those feelings. It can be a simple statement like, "I am sure this made you incredibly frustrated."
Apologize, if the review is true. If in fact the negative review is warranted based on an actual experience at your business, a simple apology can go a long way. A sincere "I am truly sorry you had this experience at our dealership," let's the reviewer know you acknowledge the problem actually occurred and that it matters to you.

Address any adjustments you've made as a result of the feedback. For example, if someone writes a negative review because they waited too long in the service area, perhaps you've added another mechanic during peak hours, or added free WiFi or beverages to your waiting area to help pass the time. Or maybe you've implemented a stronger communcation process so customers are better informed of the time it will take for the service.
Offer to discuss the issue further. You've thanked them for the feedback, you've ackowledged their frustrations, you've apologized, and you've let them know that a change has been made as a result of the feedback. Now, if they have any questions or concerns let them know that you would personally like to assist them offline and provide a good way to contact you (or you can contact them if you have their information).
Close with your commitment to excellence. Close the response with your committment to excellent customer service and thank them again for providing information to help your business improve.
Always, always, always take the high road.
Remember, many times when someone writes a negative review, they are doing so because they are at their wits end and don't think they will get satisfaction any other way. They may also be angry when they are writing it. No matter how inappropriate the commentary or the language, as the business owner, you should take the high road of complete professionalism. This will prevent things from spiraling into further online commentary.
Many businesses get negative reviews, some warranted and others not. People do read them. They also read the responses from the business owners, when they are available. It is your response to that negative review that they will judge. Refrain from attacking the reviewer or being condescending to the reviewer, no matter how tempting it may be. If you work through the sevensteps above, you have a great opportunity to turn the negative into a positive for your auto dealership.
For tips on generating more positive online reviews, see "4 Tips to Get Your Customers to Write Great Reviews."
Who is Novera Payment Solutions?
Novera Payment Solutions is well known as a leader in the credit card payments industry and is committed to helping auto dealerships and other businesses improve their bottom line by providing significant savings on credit card processing fees through our innovative flat fee pricing model.
Contact Novera to learn more about how we work with small businesses, auto dealers and auto dealer associations to provide the most fair and transparent pricing structure available on the market today for credit card processing.