QuickBooks is by far the most popular business accounting software for companies small and large across the USA, claiming nearly 95% of the business accounting market with over 3.7 million users. With that many users, there are thousands of tips out there to help companies save time and be more efficient when using the software.
Here are 15 of our favorite QuickBooks tips!
1. Know essential, basic keyboard shortcuts.
Rather than taking 2-3 clicks to get to a screen to perform a common task, QuickBooks keyboard shortcuts enable you to access screen in QuickBooks with a simple combination keypress. Here are a few of the essntial basic shortcuts.
CTRL-I = Create Invoice
CTRL-N = New invoice, check or bill
CTRL-F = Find Transaction
CTRL-W = Write a New Check
CTRL-A = Brings up Chart of Accounts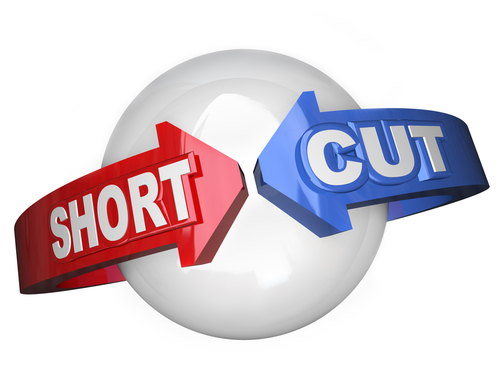 2. Memorize Recurring Transactions
If you have a transaction that you frequently enter (e.g. recurring bills), you can save time by memorizing the transaction for future use. If you use the transaction on a regular basis (for example, monthly), you can set it up as a recurring transaction when you memorize it. Otherwise, you can use it as needed by entering it from the Memorized Transaction list.
3. Make use of customer notes.
Using the customer notes feature in your client records save you time. Collections calls can be notated, special client requests, and any other communication. Having this information in a central location is invaluable.
4. Make use of the built in field calculator
Simply position your cursor in an amount field, enter a number or highlight the whole number, and simply press a calculating key ( +, -, *, / , %). It's like magic!
5. Make use of the QuickBooks File Manager
The file manager organizes client's QuickBooks files by type, by year and version. The Password Vault also secures login information, user names and passwords.
6. Use colors to identify accounts easily
If you using more than one checking account, you can change the background color for quick identification of which account you are using. Simply spen the register for a checking account and click "Edit" on the menu, then and select "Change Account Color."
7. Work in multiple windows
Be super productive by using several open windows at once. You can quickly and easily navigate between them by displaying a list of them. Click "View" in the menu, then click "Open Window List."
8. Set QuickBooks to automatically place decimal points
You can save time on data entry by setting QuickBooks to automatically place a floating decimal point when you enter a number. Click "Edit" in the menu, then "Preferences". Select "General", then "My Preferences". Then check "Automatically place decimal point". Now if you enter 49, it will enter as .49. If you enter 3295, it will enter as 32.95. With this setting enabled, obviously you need to pay special attention to ensure if mean to enter $49, you enter 4900.
9. Use Batch Invoicing
Create invoices in a batch can save you a lot of time, if it makes sense your company. For example, a subscription based service may need to invoice 100 customer $9.95 each month. Using the batch invoicing feature, you can do this all in one step. Go to the "Customers" menu, then select "Create Batch Invoices."
10. Prepare letters and envelopes for mailing

QuickBooks has a "Prepare Letters and Envelopes" tool offers an a good selection of templates and mail-merge capabilities. This enables you to generate custom letters for customers, vendors, and employees right from QuickBooks.
11. Use "Ask My Accountant"
If you not 100% certain how a transaction should be coded, put it in "Ask My Accountant." You can temporarily house transactions here if they need to be researched, or if you truly need to have your accountant review for proper classification. Set this account up as an "Other Expense" classification so it shows in the Profit & Loss statement.
12. Backup QuickBooks
Always, always, always backup your QuickBooks data file to the cloud. External hard drives or thumb drives are ok, but they can get lost or damaged. Try using DropBox or Google Drive. How is this a time saver? If you've ever had to rebuild a QuickBooks data file, you know!
13. Personalize Your QuickBooks Icon Bar
Every business is unique. At the top of your screen, QuickBooks has an icon bar that gives you quick access to a variety of tasks. You can edit the default icons in this tool bar. Add or remove icons to suit the needs of YOUR small business.
14. Use the right-click feature for quick access
From within various QuickBooks screens, you can right-click your mouse to get quick access to relevant menus. It can definitely be quicker to access a feature you need by right-clicking to bring up the menu, than to use the toolbar and main QuickBooks menu.
15. Expand functionality with QuickBooks Add Ons
One of our personal favorite add-ons is for credit card payment processing. Novera Payment Solutions' InstantAccept or QBPlugin, provides integration for QuickBooks® payment processing for credit and debit cards, ACH (Automated Clearing House), EFT (Electronic Funds Transfer), and Electronic Check conversion using a powerful and secure Payment Gateway and Secure Vault Software. Process credit cards and checks for invoices seamlessly in QuickBooks®.
Our QuickBooks® online credit card processing is easy to use and is up and running within minutes. It is guaranteed compatibility for automated integration within QuickBooks®, so no longer is the need to ever use old outdated, unreliable, standalone credit card terminals. If your business has customers present to make a payment, then a simple USB mag-swipe reader can be attached in seconds for "card swiped" transactions.
In addition to an easy to use turnkey solution for QuickBooks® users, Novera Payment Solutions has also developed a simple, transparent pricing model utilizing a "FLAT FIXED FEE" for merchant services. This saves a TREMENDOUS amount money over the built-in Intuit payment processing offered by QuickBooks!