With QuickBooks® being the number one small business accounting software in the country, there is no doubt that thousands, if not millions of businesses, are overpaying for their credit card processing service.
The Intuit® credit card processing service is built in to QuickBooks®, making it easy and convenient for merchants to sign up for their service. This convenience can also come with a large price tag.
Intuit® features a tiered pricing model, enticing businesses into the service with seemingly low rates for qualified transactions. What they fail to disclose is that MOST transactions don't fall under that category. The hidden fees and excessive surcharges can end up costing businesses more than they bargained for when they signed up for the service.
We took a few screen grabs from the QuickBooks® payments website to illustrate the point. Take a look at their published rate chart below.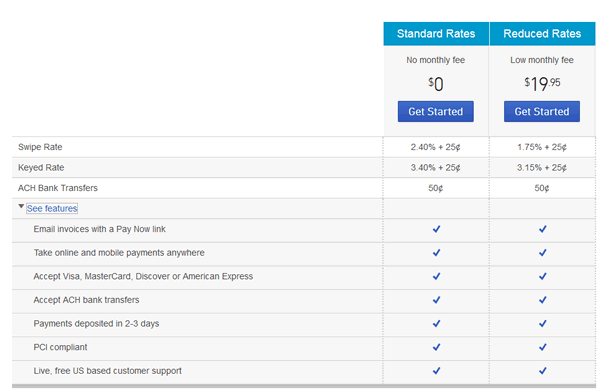 Seems simple enough ... low rates per transaction. Pay a monthly fee to get even lower rates. What they don't disclose in the table is that these rates apply only to "qualified" transactions. You have to scroll to the bottom of the page for more information and click on the "Important pricing terms" link.
Note the "additional pricing information" in the fine print.
Let's check it out. When you click on it, this is what you get.
So now we actually see the word "qualified" in the price table related to the discount rates. Note that there is an additional surcharge for non-qualified transactions. Is the discount rate higher too? Probably, but we can't tell from this price table.
There's more.
Another screen grab from the QuickBooks® payments website.

If you happen to have a non US issued card transaction, there are addtional fees tacked on.
And still there's more! See the screen grab below.
Now we have the miscellaneous fees added in, including an PCI service fee of $100 for merchants who process more than 100 transactions each year ... which presumably is just about everyone. Also notice in the table below, you may be subject to termination fees. You have to refer to three different sections of their 56 page merchant agreement to learn about that.
But we were still curious about what they mean by "qualified" transactions ... is the merchant going to pay even higher fees for other transactions? So we had to dig further on the website. We finally found a reference to this in their 56 page merchant agreement on page 29.


So they finally define "qualified" here. But note, anything that doesn't meet the "qualified" definition, is charged at the "non-qualified rate which is HIGHER than the mid-qualified rate." And the mid-qualified rate is higher than the qualified rate!
Nowhere on the website were we able to find the discount rate percentages associated with mid and non-qualified transactions.
This is a classic bait and switch technique to get merchants to sign up for an over-priced credit card processing solution by way of convenience.
The good news is that there are now plug-ins available for QuickBooks

®

that give merchants choices when it comes to who they use for their merchant processing solution.
Novera Payment Solutions offers a completely transparent approach to credit card processing. Our innovative cost plus flat fee merchant account solution saves you money. You know up front exactly what the fees are so you are not surprised with hidden costs and excessive surcharges.
Contact us for a free QuickBooks® consultation. There's absolutely no obligation. We'll show how the Novera Solutions flat fee advantage can save you money over your current QuickBooks® integrated payments solution. Our QuickBooks® credit card processing plug-in, combined with our cost plus flat fee merchant account solution, makes the transition quick, easy, and cost saving for your bottom line!