Novera makes InstantAccept available to clients who use QuickBooks
The advantage is InstantAccept integrates seamlessly with the QuickBooks software for credit card payment processing. It allows you to accept and record credir card payments and updates QuickBooks® in real time with no extra steps on your part. Combine Novera's flat fee merchant account pricing model and InstantAccept's time-saving financial integration, and you save a significant amount of money annually over those using other processors and manually entering accouting data into QuickBooks.
In addition to it's time saving integration with QuickBooks, InstantAccept also offers built-in fraud detection tools.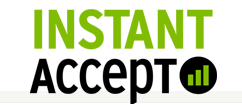 According to InstantAccept:
"Cybercriminals are more sophisticated than ever when it comes to conducting fraudulent transactions and accessing sensitive credit card data. InstantAccept™ works with some of the most cutting edge fraud solutions to date. This protects your QuickBooks® databases and records, keeping every transaction safe and secure."
Novera's clients using InstantAccept™ with our payment gateway integration have access to some of the most powerful credit card merchant account fraud prevention tools available.
These tools include:
IPViking
IPViking blocks suspect transactions before they are presented for authorization and payment. It works by evaluating the IP address and point of origin of every credit or debit card transaction. This helps identify and stop fraud before the transaction even takes place. Stopping fraud before the transaction occurs saves your business money in terms of preventing lost inventory, chargeback fees, and unnecessary administrative overhead.
eCommerceShield
eCommerceShield is a fraud prevention solution that protects your business pre- and post-authorization. It provides a triple layer of merchant account fraud protection that used to be available only to larger businesses. It uses real-time threat intelligence and IP origination data to block almost all fraudulent transactions before they are sent to the issuing bank for approval. If a fraudulent transaction does pass through for authorization, eCommerceShield features a "rules engine" that reviews high volumes of data in real-time. This offers a second level of protection for your merchant account. eCommerceShield's third layer of fraud protection offers a human element. Any transaction that gets flagged as suspicious is sent for analysis to a credit card fraud expert. The expert on the other end can then confirm valid customer orders or alert you to stop the fraudulent transaction before it is fulfilled.
Chargeback Alerts
eCommerce businesses need to take chargebacks seriously. Most business owners know that chargebacks cost the business money, but many don't realize thatchargebacks due to fraud can actually cost you your business. You can be banned from ever accepting credit cards again ... not a good situation. Chargeback Alerts reduce the time it takes for you to be notified of potential fraud from weeks to hours. This gives you more time to nullify the chargeback or to issue a refund, preventing it from being counted toward your chargeback ratio.
The Novera Advantage
Novera Payment Solutions is a leader in the credit card payments industry. We are committed to helping your business improve its bottom line by providing significant savings on credit card processing fees through our innovative and transparent merchant account pricing models.
Contact Novera to learn more about how we work with businesses to provide the most fair and transparent pricing structure available on the market today for credit card processing and our InstantAccept plugin for QuickBooks!
Our powerful InstantAccept plugin saves your busineses an incredible amount of time and money in reduced labor. When you pair that with Novera's innovative and transparent merchant account pricing model, it's even better!