As a QuickBooks user for business, there's no doubt you're constantly looking for resources and short cuts to make your business accounting tasks quicker and more streamlined. In previous blogs, we've shared LinkedIn groups from QuickBooks users, as well as YouTube videos for QuickBooks users. One resource that may not immediately come to mind, however, is Pinterest!
We've uncovered three Pinterest boards that QuickBooks users may find extremely helpful.
1. Fishbowl Inventory
This Pinterest board features an array of resources for QuickBooks users. Inventory management tips through QuickBooks is their primary focus, but what we love the most is the set of QuickBooks short-cut infographics on their board.
You can learn the following:
Keyboard shortcuts for Quickbooks

How to determine whether the hard copy or cloud copy version of QuickBooks is best for your business

Common error codes and their meanings

The ampersand shortcut in QuickBooks

How to use the "QuickMath" calculator in QuickBooks

Whether it's time to upgrade your version of QuickBooks

and just for fun ... you can learn a little about the manufacturing process for Hostess Twinkies (in case you need a mental break)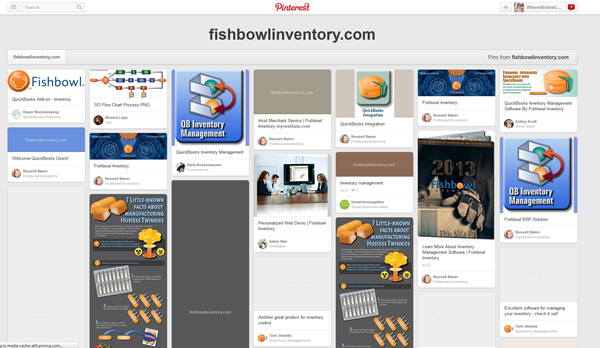 Check out the Pinterest Board here:
http://www.pinterest.com/source/fishbowlinventory.com/
2. QuickBooks ProAdvisor
While this Pinterest board is really geared at helping bookkeepers grow their businesses and increase profitability, it's a gold mine for business owners who use QuickBooks. Here's why. This board has dozens of tips for power users, as well as little-known QuickBooks short cuts and productivity tips.
Most pins are linked to valuable articles on the Intuit website. For example, they feature:
the most common QuickBooks mistakes

how to correct items posted to wrong accounts

how to enter and pay bills with QuickBooks

how to enter custoimer refunds with QuickBooks

... and so much more!
When you visit the board, you will see images with small captions. Click on the image and it will enlarge. If you've never really used Pinterest, then be aware, then the large image opens, you will need to click on THAT image to then be directed to the article that details the topic.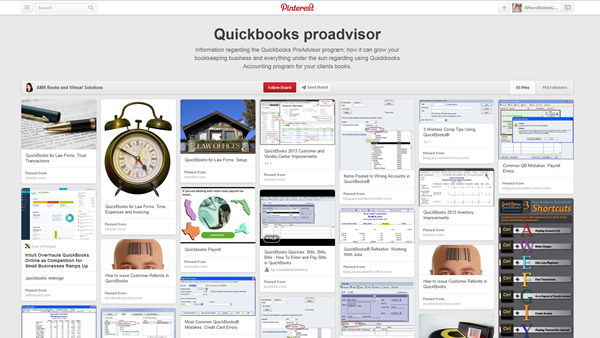 Check out the Pinterest Board here:
http://www.pinterest.com/antoniamvirtual/quickbooks-proadvisor/
3. QuickBooks 2014 Tutorials
Oh how we love this Pinterest board! Yes, they are selling online training courses, BUT they have hundreds of free "clips" around 2 minutes in length from each of their full training courses. Spend 2 minutes watching any of their videos and we are certain you are going to learn something new about QuickBooks that you didn't know before. In addition to the videos, their other boards are littered with links to excellent Quickbook articles, time saving tips, and resources that are certain to make you a QuickBooks expert in no time.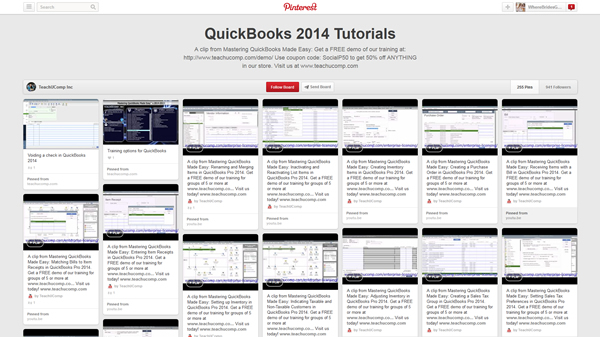 Check out the Pinterest Board here:
http://www.pinterest.com/teachucomp/quickbooks-2014-tutorials/
The Novera Advantage
Novera Payment Solutions is a leader in the credit card payments industry. We are committed to helping businesses improve their bottom line by providing significant savings on credit card processing fees through our innovative and transparent merchant account pricing models.
Contact Novera to learn more about how we work with businesses to provide the most fair and transparent pricing structure available on the market today for credit card processing and our QBPlugin for QuickBooks!
Our powerful QBPlugin saves your busineses an incredible amount of time and money in reduced labor. When you pair that with Novera's innovative and transparent merchant account pricing model, it's even better!