LinkedIn is a great social network for meeting other business professionals. It is also a great place for people to learn about your business. With the ability to create company pages, you can now put your business in front of all the LinkedIn users. Setting up a profile is pretty simple and with these steps, your page will be up and running in no time.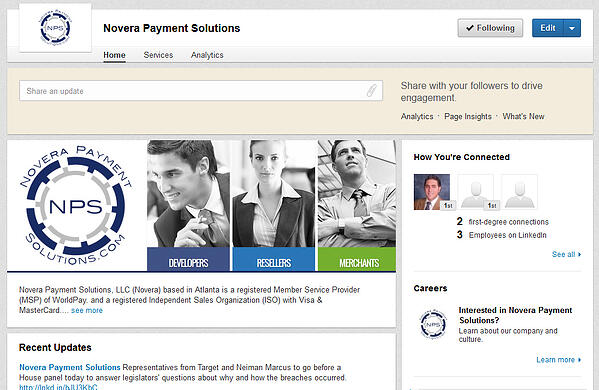 Step 1: Navigate Your Way to Companies
From your home screen, hover over "Interests" in the navigation and select "Companies" in the dropdown. To the right of your screen you should see "Add a Company." Click that and you are ready to begin inputting your information.
Step 2: Enter Name and Email
On the first screen, you will be prompted to enter your company name. Type this name as you want it to appear on your LinkedIn Company page; this is how others will find your business. You will also need to enter your email address at the company to prove that you are a current employee of the company.
Step 3: Basic Information
On the next screen, you will be asked for some basic information about your business. You can provide a link to your website, choose your industry, add a location and contact information and more. This step is pretty self-explanatory.
Step 4: Description
In this section, be sure to be detailed about your business without going overboard. You want to use keywords that people will be looking for to find your business. This is also the section where you can build creditability for your business. You don't need to talk about every individual product or service you offer in this section; there will be a place to add that later. This should be a general summary of who you are as a business and what you do.
Step5: Pictures
You are also able to upload your logo which will appear similar to the way a profile picture would on Facebook. You can also upload a cover photo to be displayed on your company profile page. Once you have everything filled out and your pictures uploaded, click publish. You can always come back and edit anything that you need to.
Step 6: Products and Services
Here is where you can get into detail about the products and services your company offers. Once you have saved your company profile, you should be on your company's home screen. In the navigation at the top, click on the Services link. From that page you will be prompted to add a service or product. If you do not see that option, go up to the edit button in the top right corner and in the dropdown you should see add product or service. Now you can choose a category that your service or product fits into. You have to name it, add a description and you can also upload a photo of it. You can add features if you like and also add a link to a specific page on your website or a YouTube video about the product.
Now your LinkedIn Company Profile is complete. You can always add to it and update it as your business grows and changes. Now it's time to start promoting your page. Be sure to let all your connections on your page know that you have a new company page and to go follow you. Then be sure to post relevant content on a regular basis not only to your personal page, but also on your business page. This will not only help you to be seen within LinkedIn, but having an active social media presence can help your business jump up in the search result rankings.
About Novera Payment Solutions
Novera Payment Solutions is a leader in the credit card payments industry. We are committed to helping businesses improve their bottom line by providing significant savings on credit card merchant accounts through our innovative flat fee merchant account pricing model.
Contact Novera to learn more about how we work with businesses to provide the most fair and transparent pricing structure available on the market today for credit card processing! Contact Novera to request a free quote on your merchant account. We are confident that our flat fee merchant account will provide significant savings over what you are currently paying for your credit card processing fees.