Sometimes referred to as the business version of Facebook, LinkedIn is considered a critical place to connect with other businesses. While many people have profiles set up, most are not optimized to provide the best business opportunities possible.
Here are 7 tips to help you get your LinkedIn profile to All-Star status.
1. Create a Complete, Detailed and Updated Profile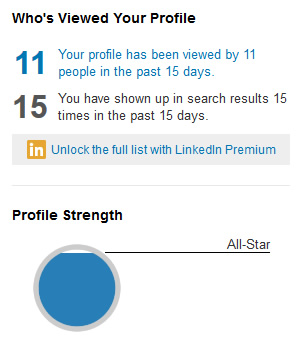 The only way to effectively be found on LinkedIn is to have your profile complete. The LinkedIn search algorithm looks for 100% completed profiles, so if yours is not complete, you will likely end up at the bottom of search results. Not only does a complete profile help you rank well within LinkedIn searches, public LinkedIn profiles are also indexed by Google.
Look to the right of your profile page and you should see a space titled "Profile Strength." The levels are Beginner, Intermediate, Advanced, Expert and All-Star. You can increase your profile strength by clicking the "Improve Your Profile" button at the top of your profile page. You will be prompted to answer questions that will help to complete your profile. You can also manually edit any section of your profile that you wish.
The following areas must be filled in to reach All-Star status:
Your Industry and Location

Your Current Position (with a description)

Two Past Positions

Your Education

Your Skills (minimum of 3)

A Profile Photo

At Least 50 Connections
2. Write an Engaging Headline
Think of your headline on LinkedIn as the subject line of an email. You need something to catch the reader's attention and make them want to check out your profile. By default, your company name and title is used by LinkedIn in the headline area. This does not make for a very good headline. Fortuantely, you can edit the headline, but you only have 120 characters, so make them count!
Headline tips to consider:
Use Keywords When Appropriate

Use Words that Appeal to Your Clients

Include a Call-to-Action
Example:
Want to save on credit card processing? I can help – call for a Free 15-Minute Consult!
3. Use a Professional Profile Photo
A LinkedIn profile with a professional headshot is seven times more likely to be viewed than a profile without one. In order to obtain a 100% LinkedIn profile status, a profile photo is required.
Profile photo tips:
Use a headshot, preferably in professional attire

Do not use images with cropped out people or selfies

Do not use grainy, pixilated or poorly lit photos

Your photo should be square, rather than rectangular in layout

Limit the file size to 4 MB (maximum size allowed by LinkedIn)

Crop the photo to pixel size between 200 x 200 and 500 x 500
4. Consider Strategic Keyword Placement
Don't annoy your profile viewers with excessive keywords; however, LinkedIn's search algorithm does value keywords in certain sections more than others, so keep that in mind when writing various sections of your profile.
The strategic use of keywords in your LinkedIn profile can be important, so be sure to place them in these sections:
Headline

Summary

Current Work Experience

Past Work Experience

Skills and Expertise
5. Build Connections and Credibility
To gain "All-Star" profile status you have to boost your connections to at least 50. So how can you get more connections? Make your message stand out, so the person on the other end wants to connect with you. LinkedIn gives you an option to include a personalized message with the email that LinkedIn generates ... be sure to use it.
Adding your skills is also necessary for "All-Star" profile status; however, you can go beyond that and use recommendations to build credibility on the skills you've listed. People tend to give more credibility to a third party recommendation, so LinkedIn recommendations are so important. When trying to build your recommendations, embrace the idea of givers gain. If you give a recommendation to someone else, they are more likely to give one in return.
Tips on giving great recommendations:
Keep it short and sweet

Include specific facts (eg. "saved our company $1,000 quarterly) in credit card processing fees)

Add sizzle (eg. "Jane Doe is absolutely brilliant!" rather than "Jane Doe is great at what she does."
6. Customize Your LinkedIn URL
By default, your LinkedIn profile URL consists of random alphanumerical characters. However, you can edit this by going to "Settings," "Edit Public Profile," then "Customize Your Public Profile URL." You can enhance your personal brand by adding your name to your LinkedIn URL. For added coverage, make sure that your Facebook, Google Plus and LinkedIn vanity URLs are all the same. For example: www.linkedin.com/profile/janedoe and www.facebook.com/janedoe.
7. Use LinkedIn Applications
You can enhance your profile in different ways by taking advantage of LinkedIn applications. For example, if you write a blog for your company, you can install the WordPress app allowing you to sync blog posts with your LinkedIn profile. Other sample applications that allow you to show off your work include Slideshare (for sharing presentations) and Box.net (for embedding videos in your profile).
LinkedIn is All About Business Connections
Whether you are an entrepreneur, working for a non-profit, working for a company, or new to the business world altogether, LinkedIn is a great networking and connection tool to help you achieve your professional goals. Having a professional LinkedIn profile set up with "All-Star" status can help you take advantage of business opportunities and connect with influencers in your industry.
About Novera Payment Solutions
Novera Payment Solutions is a leader in the credit card payments industry. We are committed to helping businesses improve their bottom line by providing significant savings on credit card processing fees through our innovative flat fee merchant account pricing model.
Contact Novera to learn more about how we work with businesses to provide the most fair and transparent pricing structure available on the market today!