Smartphones are the way of the world. You can now find an app for just about anything. But with so many to choose from, how do you know which apps will work best for your business? We have put together a list of 5 popular mobile productivity apps to help you out.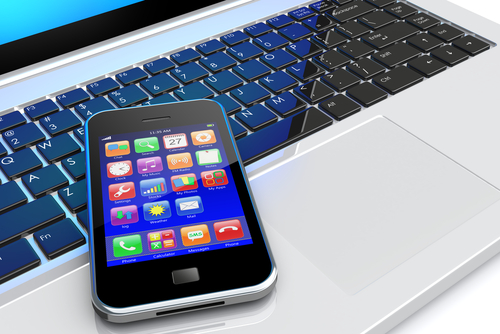 Quip is a new mobile document app perfect for collaborating with your team. You start by creating a draft, then add your co-workers and get a notification when they open the document. From your phone you can see the edits everyone makes and then finalize the document. You can even cut down on email with this app. Instead of sending documents through email, you can create a shared folder with all your team members. You can create checklists and to-do lists and use the document thread to discuss additions. You will also receive notifications every time someone adds new material, edits a document or sends a message. The app can also make your meetings more efficient by sharing your agenda and notes with everyone. You can even share presentations. And during the meeting everyone can be looking at the documents at the same time.
Google Keep is the perfect app for quickly making a note or reminder so you don't forget later. You can keep track of your thoughts by notes, lists or even photos. You can add reminders to your notes and get notified later. The app can even transcribe voice notes automatically. You can add checkboxes to your notes to quickly create a checklist and check the items off as you get them done. Color code your notes to easily find them and then when you are finished with them, just swipe to send it to the archives. You can access your notes from the app on your phone or online from any computer.
This calendar app finds everything you need to know for your appointments and gathers it in one convenient place for you to access. Contacts and details are organized by who you are meeting with this week and you can see your network; the company's latest news and background info is right at your fingertips. Any emails or documents related to your appointment are available in the app so you can find information quickly. All the ways to connect are organized within the event and if it is a conference call, you can save the pass code to get in quickly and easily. You can even send a pre-made "I'm running late text" to the person or people you are meeting. Type in where you need to go and the app can get you the address, directions and drive time. You can even get your flight status, terminal and gate within the app. Use Tempo instead of open many apps such as your calendar, contact book, google maps, airline app, etc.; access everything from one place!
Talkboard is a collaborative whiteboard app that lets you sketch ideas and work on them with others. The app is perfect for brainstorming with your group or even just capturing thoughts on the go. Easily invite others to sketch with you and receive instant feedback on your idea. The app makes working together fun and effective whether you are in the same building or spread out across the country.
The inbox allows you to fly through your emails and quickly swipe to archive, delete or even snooze so it will pop back up later! You can also scan an entire email conversation at once with chat-like organization. Instead of scrolling through emails that you can't deal with until later, swipe and tap to snooze your email and have it reappear later that day or the next day or the next week. Now you can have a clean inbox that is nice and organized. You can even add multiple email accounts to the app so all your emails are in one place!
These apps (and many others) can help you with every aspect of your business, from getting employees to collaborate to keeping yourself organized. Businesses just like yours have been using them to increase productivity. The best part is, many of these apps are free! Check them out when you get a chance. Here's to a more productive 2014!
About Novera Payment Solutions
Novera Payment Solutions is a leader in the credit card payments industry. We are committed to helping businesses improve their bottom line by providing significant savings on credit card merchant accounts through our innovative flat fee merchant account pricing model.
Contact Novera to learn more about how we work with businesses to provide the most fair and transparent pricing structure available on the market today for credit card processing! Contact Novera to request a free quote on your merchant account. We are confident that our flat fee merchant account will provide significant savings over what you are currently paying for your credit card processing fees.